Canada will host Comac's in-development C919 narrowbody for natural icing flight tests this year, as the programme inches closer to certification and service entry.
Canadian pilot training school International Test Pilots School (ITPS) clinched the bid to support the programme in tests in London international airport in Ontario. It will handle the logistics of the tests, as well as provide a test pilot and meteorological services during the trials.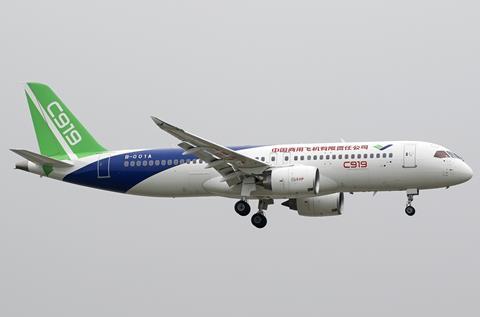 The cold-weather test is slated for March, but ITPS says it "may slip" to the second half of the year, depending on how the coronavirus pandemic situation evolves.
The latest development comes less than a month after the C919 programme completed cold-weather testing in China's Inner Mongolia region.
Comac hopes to get the type certificated by this year, before commencing deliveries to Chinese carriers, including launch customer China Eastern Airlines.
Cirium fleets data shows that there are 305 firm orders for the C919. Comac has also secured more than 700 commitments for the CFM International Leap-1C-powered aircraft.