Chinese regulators and Boeing recently met to discuss the 737 Max, potentially setting the stage for type's return to service in Mainland China.
The meeting took place in the city of Zhoushan on 14 September, according to a Chinese language release from the Civil Aviation Authority of China (CAAC).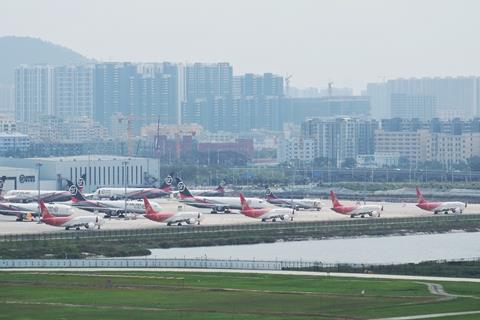 The meeting, which included officials from several regulatory bodies, reviewed the revised training regimen for the 737 series. The CAAC team also posed questions to Boeing.
Once these are resolved, the CAAC will revise documentation about the 737, which should set the stage for the reintroduction of the type by Chinese carriers.
Attendees also visited Boeing's Zhoushan Completion and Delivery Centre for the 737 Max. The completions centre is a joint venture with Chinese airframer Comac, while the delivery centre is owned by Boeing.
Boeing says it continues "to work with global regulators, including the CAAC, and our customers, to safely return the 737 Max to service worldwide."
China is a key market for the 737 Max. Cirium fleets data indicate that Chinese airlines have taken delivery of 102 examples, with 229 on order.
Two fatal crashes of the 737 Max saw the CAAC become the first major regulator to ground the aircraft in March 2019, a restriction that remained in place until December 2021. Since then, deliveries to Chinese airlines have been frozen, and Chinese operators have yet to resume flying the type – even though beyond China the 737 Max has been back in service for most of 2022.
There are signs that Boeing is getting impatient.
On 15 September Boeing chief executive Dave Calhoun said that a small number of 737 Max jets bound for China are being re-marketed to other carriers.
"I want to protect our customers in China, but we're not going to wait forever," said Calhoun. "You've got to move them and there is a big market for them."
He also underlined that Chinese deliveries have yet to recommence: "We're not delivering airplanes to China. We certainly wish we could. We are remarketing a small portion of them, and we continue to defer production of any Chinese airplanes."
He indicated that whether Boeing remarkets more Chinese 737 Max jets depends on how events unfold.
Despite the apparent grounds for optimism the CAAC meeting represents, Boeing still appears to face challenging geopolitical headwinds in relation to China.
A day after Calhoun's remarks, China's Ministry of Foreign Affairs announced unspecified sanctions against Ted Colbert, chief executive of Boeing Defense, Space & Security, and Gregory Hayes, chairman and chief executive of Raytheon Technologies.
Beijing imposed the sanctions in a fit of anger about a US government arms package to self-governing Taiwan, which includes 100 air-to-air AIM-9X Sidewinders made by Raytheon and 60 anti-ship AGM-84 Harpoon missiles built by Boeing.
This story has been updated with a statement from Boeing