Low-cost carrier Cebu Pacific has signed a long-term pilot training agreement with Canadian simulator manufacturer and operator CAE for its ATR 72-600 fleet.
The 15-year agreement will see CAE deploy a brand-new ATR 72-600 full-flight simulator to Philippine Academy for Aviation Training, which is a CAE-Cebu Pacific joint venture based in Clark. It will be the first full-flight simulator for the type to join CAE's Asia network, the company notes.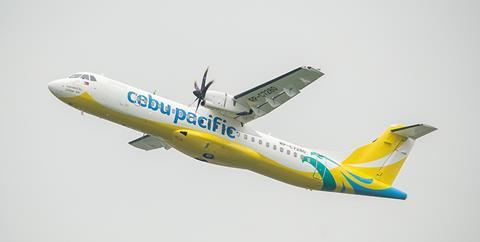 CAE adds that the simulator includes an extended motion envelope allowing trainees to perform upset prevention recovery training. It joins three existing Airbus A320 CAE full-flight simulators that have already been installed and are servicing the market.
Mike Szucs, chief executive advisor at Cebu Pacific, says: "The new training agreement and deployment of brand-new CAE ATR 72-600 [full-flight simulator] in the region remain instrumental in supporting the development of Cebu's pilots, and it is a testament to our commitment to delivering the highest level of safety and passenger experience.''
Cebu Pacific pilots on the A320 and A330 platforms train at CAE facilities in Hong Kong and Kuala Lumpur. To date, CAE says it has trained more than 1,000 Cebu Pacific pilots.
"Cebu Pacific and CAE share a partnership that spans almost 10 years, and CAE is thrilled to continue supporting the airline while it begins to resume travel schedules under new guidelines," adds Nick Leontidis, CAE group president for civil aviation training solutions.
Cirium fleets data indicates Cebu Pacific to have a fleet of four ATR 72-600 in service, with a further nine in storage and three more on order.