Cathay Pacific is restarting its cadet pilot training programme – two years after suspending it during the onset of the coronavirus pandemic – as the beleaguered carrier stresses its confidence in future recovery.
In a statement on 28 March, the carrier says it is looking to recruit and train over 800 local cadet pilots by 2025, with the first batch of around 190 trainees joining this year.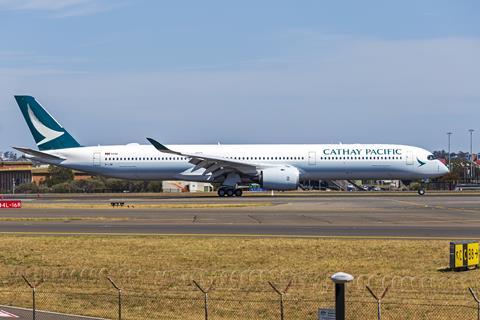 Cathay also expects to onboard 150 qualified cadets who were supposed to join the airline in 2020, but were unable to do so because of the pandemic.
The decision to restart its training programme comes more than a year after it undertook a massive restructuring amid deep financial woes, which saw thousands of employees axed.
Says the Oneworld carrier: "Despite the challenges presented by the pandemic, Cathay Pacific is confident in the development and long-term future of Hong Kong as a premier aviation hub. The airline's Flight Operations department has been forward planning and reviewing its resources in preparation for the recovery in the aviation market."
Cathay will be partnering Hong Kong Polytechnic University for the cadet training programme, which is expected to span 55-60 weeks. The university will provide ground theory lectures.
"Successful candidates will then commence flight training in either Adelaide, Australia or Phoenix in the USA before returning to Cathay City for multi-crew simulator training," adds Cathay.
Between 2023 and 2025, Cathay hopes to induct up to 300 new cadets a year into the programme. This compares to the 180 cadet pilots trained in pre-pandemic 2019.