CFM International has signed engine support contracts with two Chinese carriers for its Leap-1A powerplant, which power the Airbus A320neo family fleet.
The enginemaker, a joint venture between GE Aviation and Safran, inked a long-term aftermarket agreement with Changsha-based carrier Air Travel at the 2021 edition of Airshow China held in Zhuhai.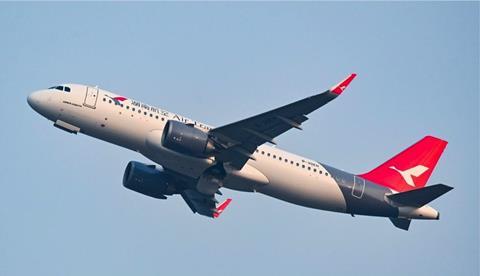 The agreement, which includes the purchase of spare Leap-1A engines, is valued at $992 million at list price, CFM says.
Under the Rate per Flight Hour agreement, CFM's services unit will guarantee costs for engine maintenances on a dollar per engine flight hour basis.
Cirium fleets data shows the airline to operate a fleet of 16 A320 family aircraft, including seven A320neos. Air Travel's nine other aircraft are all CFM56-powered examples.
Separately, CFM signed a letter of intent with Air China to build up Leap engine MRO capabilities in Sichuan Services Aero-engine Maintenance (SSAMC), a joint venture between both companies.
SSAMC, which was set up in 2010, handles engine MRO for CFM56 and Leap engines in China. CFM states that the unit has overhauled more than 1,000 engines to date, and provided on-wing support for more than 1,500 engines.
On the partnership, CFM International president for greater China Weiming Xiang says: "China has important to the recovery of the global narrowbody market during the pandemic. Promoting SSAMC's Leap engine MRO capacity is of great significance for ensuring the stable growing of Leap engine fleet."
There are currently 20 carriers in greater China that operate A320neo aircraft powered by Leap-1A turbofans, clocking more than 2 million engine flight hours since 2018, says CFM.