Avic unit Chengdu Aircraft Industry Group will lead efforts to build an unmanned air vehicle (UAV) industrial park in Sichuan province, with the goal of becoming a "world-class UAV manufacturing" cluster.
The new industrial park – with investment of around CNY10 billion ($1.56 billion) – will be built at Zigong, a city located in central Sichuan, and will be dedicated to both civil and military UAVs, states the Sichuan provincial government.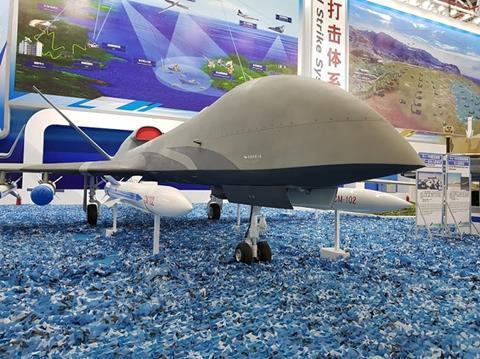 The first UAV will roll off the assembly line by June, with its first test flight completed by September, the statement adds. Once the project is completed, it targets a production rate of more than 100 UAVs per year.
The agreement, which Chengdu Aircraft and the Zigong Municipal People's government signed on 26 April, encompasses the entire UAV supply chain, from component development and manufacturing, to assembly and testing.
In the first phase of the project, both parties will focus on final assembly and flight testing capabilities. This will involve the construction of a temporary take-off and landing site, which Avic discloses will be 2,500m (8,200ft) in length and 40m wide.
The second phase of the project will see the completion of a "full-scale" production line, as well as functions like parts processing and additive manufacturing.
In the third and final stage, a permanent 3,600m-long runway will be completed together with supporting functions, and capacity at the production line will be ramped up. Both parties also hope to attract other aviation manufacturing enterprises to establish their presence at the industrial park.
The government hopes to get the park fully operational by 2023, and has targeted an annual production output valued at around CNY10 billion.
The Sichuan provincial government, in throwing its support behind the project, says the industrial park was essential in building up the country's UAV capabilities, as well as improving the economic development of the province.