Struggling European aerospace suppliers could be an easy target for acquisitive Chinese and other foreign investors, with implications for industrial sovereignty and security, European trade group ASD warned today.
Arndt Schoenemann, managing director of Liebherr Aerospace, who represents suppliers on the ASD board, is calling for a "European fund" to "stabilise the supply chain" after many companies invested heavily to support the commercial airliner ramp-up.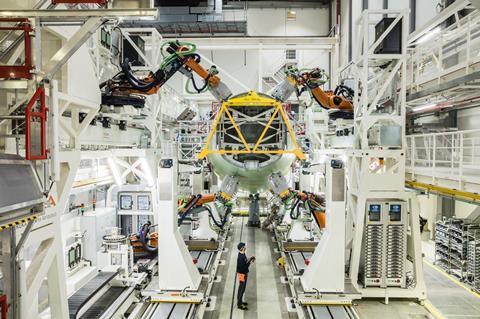 A liquidity crisis among suppliers could mean "investors from outside Europe may try to buy companies, and we need to look at how to tackle that", he said at a press conference ahead of the publication of the Brussels-based organisation's annual Facts & Figures report, which reflects the industry's performance in 2019.
While Chinese investment is not always a bad thing, "aerospace and defence are strategic sectors and stand for a kind of autonomy", he says. "If we want to keep [those sectors] European, we should look for mainly European investors."
In two or three instances, where Chinese companies have bought European aerospace suppliers it has "led to a walk away of their traditional European customers", he adds.
However, Schoenemann believes the option of states taking equity stakes in cash-strapped aerospace suppliers is a last resort. "The government in Germany is prepared to step in, but this is not our preferred solution," he says.
ASD president Alessandro Profumo, chief executive of Leonardo, adds that managed consolidation of the supply chain is preferable. "We are pushing for SMEs to merge to strengthen their position," he says.
Airbus chief executive Guillaume Faury, who is vice-chairman of ASD, is urging governments to accelerate the use of rapid testing to allow air services to restart. "We can't just wait until vaccines arrive," he says.
The Facts & Figures report shows that in 2019 the European aerospace and defence sectors turned over €260 billion ($309 billion), with half of that coming from civil aeronautics and €48 billion from military aeronautics.
Aerospace and defence exports contributed €149 billion to European economies, with the commercial sector making up almost three-quarters of that.
The industry employed 890,000 in 2019, an 186,000 increase from 2011.