Chinese airframer Comac has completed design work on a programme to convert the ARJ21 airliner into a freighter.
The project to develop a freighter conversion variant of the ARJ21 commenced in May 2020, and involved preliminary and detailed design, aimed at understanding the modifications necessary.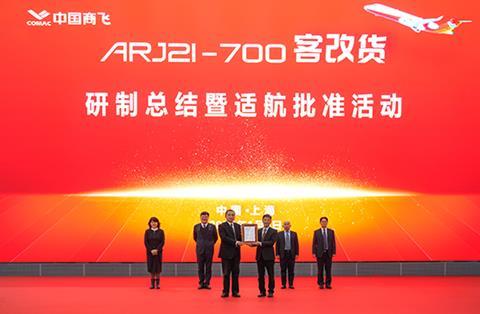 Comac did not state when the first conversion will be undertaken, or when the converted aircraft will conduct its first flight. Nonetheless, it has two customers for converted ARJ21s: Zhongyuan Airlines and YTO Cargo Airlines.
Comac announced the programme's launch at a ceremony at the company's Shanghai research & development centre. The airframer has for around two decades envisaged a cargo role for the twin-engined regional jet. For years, Comac has displayed models of the proposed ARJ21-700F at airshows.
The converted aircraft will have a commercial cargo capacity of 10t and be capable of carrying air freight containers – unit load devices – of various sizes, such as PMC, PAG, and AKE.
Its main cargo door will feature fully electric actuation, and the aircraft will feature a special fire suppression and air-conditioning system.
Cirium fleets data that there are 88 ARJ21-700s in service. It also lists a single ARJ21-700F freighter as being in storage, with the operator listed as YTO Cargo Airlines.
The ARJ21 freighter announcement follows the company's unveiling of the ARJ21's business jet variant, the CBJ, at Airshow China in Zhuhai in September 2021.
Separately, Comac trumpeted its 2023 Work Conference and First Workers' Congress, which follows the Chinese Communist Party's (CCP's) 20th National Conference in October 2022.
The event acknowledged the important roles of CCP ideology and the "ardent enthusiasm" of Chinese leader Xi Jinping in the country's pursuit of developing commercial aircraft, such as the ARJ21 and C919.
In a speech at the event, Civil Aviation Authority of China official Shen Xiaoming offered his views on Comac's objectives: "In 2023, we must follow the spirit of the 20th National Congress of the Communist Party of China, unswervingly implement the large aircraft strategy, resolutely implement the important instructions of General Secretary Xi Jinping, and deeply understand the mission and responsibility I have undertaken in the large aircraft business…insisting on safety first and quality first."