UK-based Cranfield Aerospace Solutions (CAeS) is to receive a £10.5 million ($13.9 million) funding boost after investment pledges from HydrogenOne Capital Growth (HGEN) and Safran Corporate Ventures.
As part of the common investment agreements, HGEN intends to contribute £7 million, while Safran will inject £3.5 million; with the acquisition of the minority stake, both companies will have the right to a seat on CAeS's board.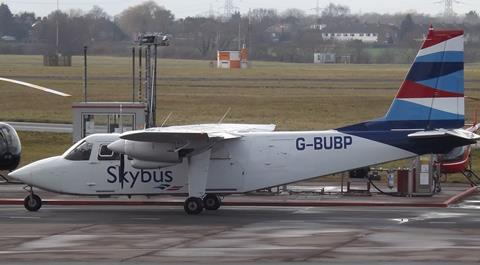 CAeS is currently leading Project Fresson, a UK government-backed initiative that seeks to deliver a Civil Aviation Authority-certificated conversion of a Britten-Norman BN-2 Islander to run on hydrogen fuel cells.
In parallel with its investment, Safran will work in partnership with CAeS on hydrogen fuel cell-powered electric propulsion for aviation.
"This investment and this technological partnership confirm Safran's strategy in net-zero aviation and contribute to making Safran a competitive player for the development of fuel cells for aircraft," says Ghislaine Doukhan, chief executive of Safran Power Units.
Paul Hutton, chief executive of CAeS, adds: "As we prepare for ground and flight testing, this backing by our investors will enable us to accelerate delivery of our flying demonstrator in 2023 and certified aircraft in 2025.''
UK Companies House documents show that prior to the investment, CAeS was 100% owned by Cranfield Group Holdings, which in turn was controlled by Cranfield University.