Cranfield Aerospace Solutions (CAeS) has secured a further £3.9 million ($4.7 million) investment from a pair of new backers, taking funding pledged in the current round to £14.4 million.
The two new investors are the Strategic Development Fund – the investment arm of Tawazun Economic Council of the United Arab Emirates – and California venture capital firm Motus Ventures.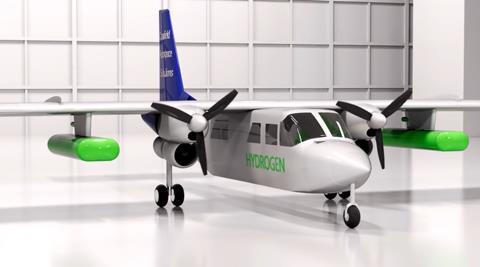 Earlier this year, CAeS received £10.4 million from Safran Corporate Ventures and HydrogenOne Capital Growth as part of its Series A funding round.
Speaking to FlightGlobal in July, CAeS chief executive Paul Hutton hinted that additional backers were set to come on board by mid-August.
A Series B funding round is scheduled to kick-off in September, taking six to nine months to complete.
CAeS is developing a hydrogen fuel cell powertrain conversion for the Britten-Norman BN2 Islander under the Project Fresson initiative; service entry is envisaged in 2025.