German aerospace research centre DLR has received a refurbished Dornier 228 twin-turboprop for conversion into a hydrogen fuel cell demonstrator.
DLR and partner MTU Aero Engines intend to replace the Do 228's port-side Honeywell TPE 331 powerplant with a 600kW fuel cell-powered electric motor.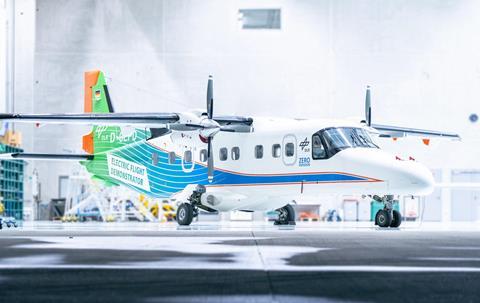 Development of the liquid hydrogen-based propulsion system is under way and should be developed by mid-decade for flight test on the Do 228 (D-CEFD), says DLR.
In the interim, the partners will use the platform to test individual system components prior to installation of the complete powertrain.
Fuel cells will be located in the fuselage alongside the hydrogen storage tank. Key to the project will be to develop an effective cooling system for the fuel cells, says the DLR.
Modification of the former passenger aircraft, including its new livery, was conducted by General Atomics Aerotec Systems at its Oberpfaffenhofen site near Munich in southern Germany.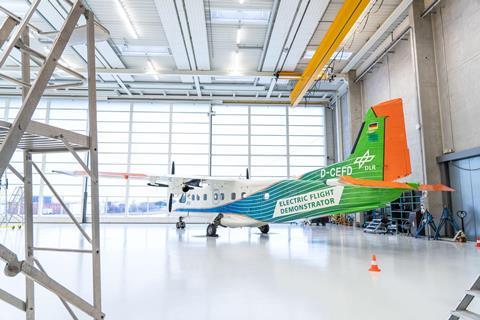 General Atomics – better known for the unmanned air vehicles produced by its aeronautical systems business – acquired the Do 228 programme from Swiss aerospace and defence firm RUAG in 2020.
A 1986-built airframe, D-CEFD was initially operated by the then Cobham Aviation Services on behalf of the UK Ministry of Agriculture as a fisheries patrol aircraft, Cirium data records. It was later flown on passenger services by Channel Island airline Aurigny.
Coincidentally it is the second ex-Aurigny Do 228 to be acquired for hydrogen fuel cell conversion: earlier this year ZeroAvia announced it had purchased a 1985-built example (G-SAYE) for its HyFlyer II programme.