UAE defence group EDGE is buying a $14 million stake in an Israeli specialist in air traffic management (ATM) technology for unmanned air vehicles (UAVs).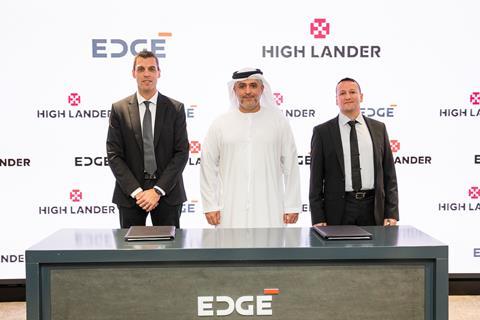 EDGE plans to pitch High Lander's software platforms at "high-value opportunities" in military and civil markets. The Abu Dhabi-based business is already a significant player in the manufacture of autonomous systems through its ADASI subsidiary.
EDGE chairman Faisal Al Bannai says his company's increasing focus on "the development of world-leading autonomous aerospace solutions" creates an "urgent" need for advanced ATM systems. High Lander, he says, "provides the only truly universal solution for this critical requirement".
EDGE, whose portfolio also takes in cyber security solutions and missiles, plans to "assist High Lander in developing its next-generation [unmanned traffic management] solution, which enables the safe coexistence of manned and unmanned aviation".
The move is the latest in a series of partnerships between UAE state-run companies and Israeli entities following the signing of the Abraham Accords between the two countries in August 2020.
In 2021, Israel Aerospace Industries (IAI) linked with Etihad Engineering to set up two freighter conversion lines for Boeing 777-300ERs in Abu Dhabi.
IAI also announced that year that it is working with EDGE to develop a range of counter-UAV systems for the UAE and wider Gulf market. Products under consideration include "soft kill" solutions such as jamming and cyber take-over, as well as "hard kill" options such as interceptor missiles or lasers.
Israeli airlines have also been discussing maintenance and training agreements with the UAE.