Aircraft modification joint venture EFW has secured supplemental type certification from the European Union Aviation Safety Agency (EASA) for its first Airbus A320 passenger-to-freighter conversion programme.
The announcement comes about three months after the first prototype (MSN2737) took off for its maiden test flight in Singapore's Seletar Aerospace Park.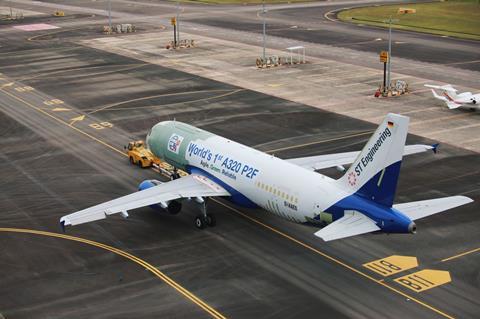 The prototype unit, a 16-year-old example, is currently owned by the aviation leasing arm of ST Engineering, which is working with EFW in the conversion programme.
It will be the first of five A320P2Fs for Middle Eastern lessor Vaayu Group, which will lease two examples to Nairobi-based cargo operator Astral Aviation in the second quarter of the year.
The A320P2F is EFW's second narrowbody freighter conversion programme, after the A321P2F, which entered service with launch customer Qantas in 2020.
The German company also performs passenger-to-freighter conversion work on other Airbus types, including the A330-200 and -300.