Malaysian aerospace services company AeroTree has ordered 60 passenger-grade electric vertical take-off and landing (eVTOL) aircraft from China's EHang.
The order, announced on 10 March, comprises 50 EH216 eVTOLs, as well as another 10 longer-range VT-30 variants.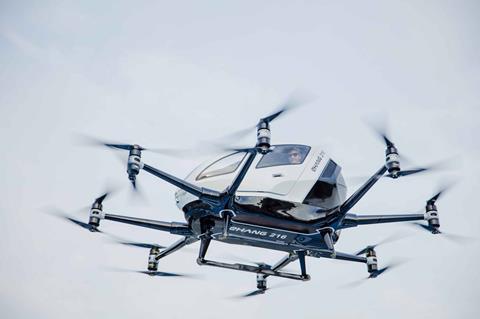 The partnership will also see both companies develop the urban air mobility sector in Malaysia, in areas such as MRO and training. It also marks EHang's foray into the Malaysian market.
AeroTree, whose areas of business includes defence services and flight training, previously ordered one passenger-grade EH216 from the Chinese company.
AeroTree managing director Halim Othman says: "Leveraging our full spectrum of capabilities and partnerships that span from MRO to training, we eagerly anticipate using EHang [autonomous aerial vehicles] for Malaysia's UAM projects and civil aviation."
EHang founder and chairman Huazhi Hu adds: "Our comprehensive AAV products and solutions are well suited to a variety of intracity and intercity UAM use cases in Malaysia, such as passenger transportation, aerial sightseeing, aerial firefighting and aerial logistics. The rising demand and pre-orders for a large number of our passenger-grade AAVs from Japan and Malaysia will unleash great market potential for EHang in Asia."
In January, EHang clinched an order for 50 EH216s from Japanese air mobility company AirX.
AeroTree's eVTOL order comes nearly a month since another Malaysian operator — AirAsia Aviation Group — announced its plans to take at least 100 Vertical Aerospace VX4 eVTOLs from lessor Avolon.
The aircraft – the first of which could enter service as early as 2025 – will operate under AirAsia's ride-hailing platform.