Brazilian airframer Embraer delivered 30 jets in the third quarter of 2021, two more than in the same period during coronavirus-plagued 2020.
Of the aircraft delivered in the three months, nine were commercial aircraft and 21 were executive jets, the Sao Jose dos Campos-headquartered company says on 21 October.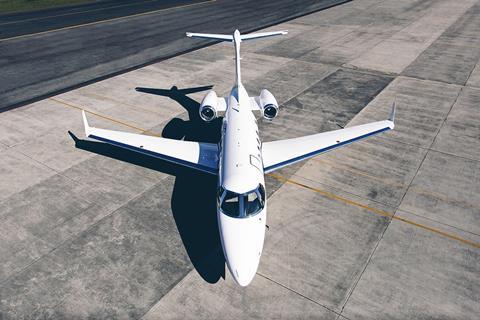 The Brazilian airframer handed over 28 jets in the third quarter of 2020 – seven commercial aircraft and 21 executive jets.
Included in the 2021 third-quarter deliveries were six E175s and three new-generation E195-E2s.
During the period, Embraer announced the sale of 16 E175s to SkyWest Airlines for operation in Delta Air Lines' network. That is in addition to 71 E175s SkyWest already operates for Delta.
Embraer's commercial aircraft backlog at the end of the third quarter stood at 313 aircraft, including 151 E175s, three E190s, five E190-E2s and 154 E195-E2s. The company says the backlog is worth $16.8 billion.
In addition to the commercial jets, Embraer delivered 21 executive aircraft in the three months ended in September: 14 Phenom 300s, two Praetor 500s and five Praetor 600s. That is the same number of executive jets that the company delivered in the third quarter of 2020.
"During [the third quarter] Embraer delivered its 1,500th business jet," the company says. "The milestone aircraft was a Phenom 300E, the best-selling light jet for nine years in a row, which was delivered to Haute Aviation, a Swiss company focused on charter, brokerage and aircraft management."