Embraer's urban air mobility unit Eve has clinched an order for 50 electric vertical take-off and landing (eVTOL) aircraft from Australian commuter airline Sydney Seaplanes — its second commitment from Australia in two days.
The order, which will see "progressive deliveries" from 2026, comes as both parties announce a partnership for electric air taxi operations in Greater Sydney.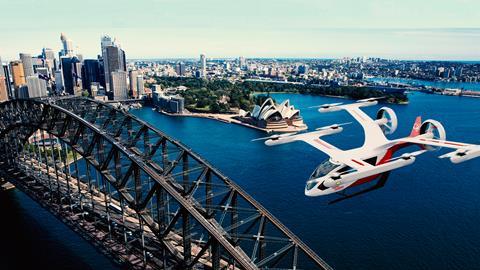 Sydney Seaplanes chief Aaron Shaw says the company expects to operate the eVTOLs from its Rose Bay aviation terminal in Sydney Harbour. "This service will have widespread appeal which will allow us to open new routes beyond the harbour and throughout the greater Sydney region," Shaw adds.
"The new partnership accelerates the progress towards 100% of greater Sydney's local tourism and commuter flights coming from zero emission electric aviation," states Eve.
Sydney Seaplanes operates a mixed fleet of amphibious aircraft, comprising Cessna Caravans, as well as de Havilland DHC-2 Beavers.
In December 2020, the airline announced it was working with electric propulsion company Magnix and Dante Aeronautical to get an all-electric Caravan certificated by Australian regulators.
The latest order comes a day after Eve announced a 10-aircraft order from Queensland-based helicopter operator Nautilus Aviation, which was looking to develop urban air mobility in the state's tourist areas, including the Great Barrier Reef.