The Civil Aviation Authority of Singapore (CAAS) and the European Union Aviation Safety Agency (EASA) have signed a memorandum of understanding to work together on urban air mobility development.
The agreement will see both EASA and CAAS collaborate in areas including the development of safety and regulatory standards, outreach strategies, as well as other activities and conferences related to urban air mobility matters.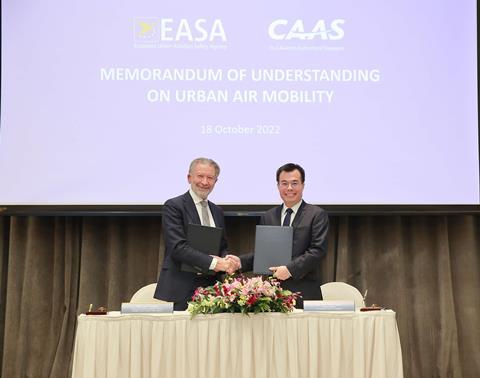 Representatives from both agencies signed the pact at the sidelines of the four-day EU-Asia Symposium on Unmanned Aircraft Systems and Urban Air Mobility, held in Singapore from 18 October.
Han Kok Juan, director-general of CAAS, says: "In the last few years, we have seen quantum leaps in [unmanned aircraft systems] and [urban air mobility] development. The potential benefits are tremendous. Realising them will require concomitant development in regulation and regulators need to keep pace with technology and business developments to assure safety and security and build public confidence and acceptance."
Adds EASA strategy and safety management director Luc Tytgat: "We know that traditionally regulators lag behind industry developments and innovations. Both this MOU and the wider symposium will contribute to regulators getting ahead of the technology curve in support of our future safety oversight responsibilities."
The agreement comes as Singapore doubles down on urban air mobility efforts, including the rolling out of electric take-off and landing (eVTOL) aircraft, as well as the use of drones for ship-to-shore deliveries and other cargo and logistics purposes.
European eVTOL firm Volocopter has a significant presence in the city-state, having conducted test flights with its aircraft in Singapore's central business district.