ExecuJet's Malaysian MRO unit will expand its maintenance facilities at its Subang airport base.
The business jet specialist says it is "developing a purpose-built" MRO facility at the Sultan Abdul Aziz Shah airport in Subang, located off Kuala Lumpur in Malaysia.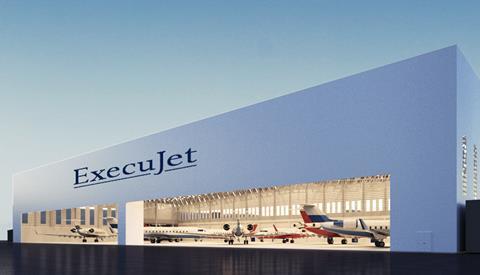 The new facility, which spans around 144,000 sq ft (around 13,400 sq m) in gross floor area, will feature maintenance lines, back shops, as well as offices and customer areas.
The move comes after ExecuJet MRO Services Malaysia signed a land lease with state-owned operator Malaysia Airport Holdings. The company adds that construction of the new facility will take up to two years.
At its present facility, also located at Subang, ExecuJet serves Dassault, Bombardier and Gulfstream operators from across the Asia region.
Regional vice president for ExecuJet MRO Services Ivan Lim says: "The new purpose-built MRO facility allows us to continue to develop and expand to meet growing demand from our customers in Malaysia and from across the Asia region.
"We are steadily growing our highly skilled workforce here in Malaysia and our strong presence at Subang further reinforces Malaysia's status as a leading centre for business aviation and general aviation in the Asia region."