The first Airbus A320 under EFW's passenger-to-freighter conversion programme has completed its first flight from Singapore, paving the way for eventual service entry in 2022.
EFW, a joint venture between Airbus and Singapore's ST Engineering, says the aircraft, registered D-AAES (MSN 2737), flew the test flight from Seletar Aerospace Park on 8 December. Flight tracking data shows the maiden sortie lasted nearly three hours.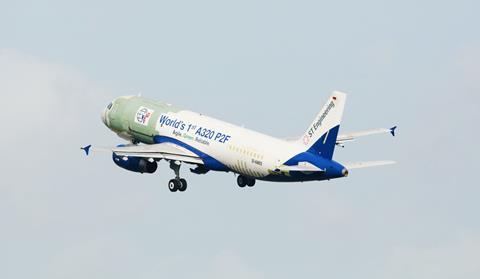 Work to convert the aircraft into a freighter configuration began in March this year, the company adds.
According to Cirium fleets data, the A320 last operated with Indian low-cost carrier IndiGo for two years, between 2018 and October 2020. It was first delivered to LATAM Airlines Brazil in 2006 and operated with the airline for 11 years.
EFW states that the aircraft will continue with flight testing before being issued a Supplemental Type Certificate from the European Union Aviation Safety Agency (EASA).
It will subsequently enter service as a freighter with UAE-based Vaayu Group, which in November announced plans to lease five A320P2Fs from ST Engineering's leasing unit ST Engineering Aerospace Resources.
EFW expects the aircraft to enter service in 2022.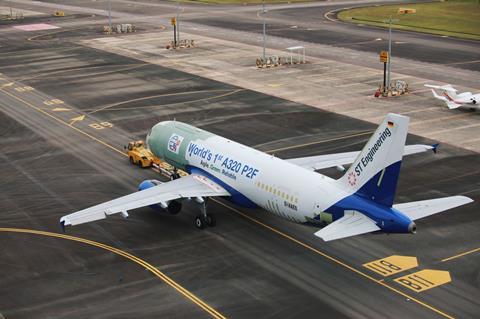 The A320P2F is EFW's second narrowbody freighter conversion programme, after the A321P2F, which entered service with launch customer Qantas in 2020.
The German company also performs passenger-to-freighter conversion work on other Airbus types, including the A330-200 and -300.