ST Engineering's commercial aerospace unit is ramping up its passenger-to-freighter conversion capacity, as it discloses that conversion slots for Airbus aircraft have been fully booked through mid-2025.
In a company update for the quarter ended 30 September, ST Engineering says conversion slots for A320 and A321 jets are full until end-2024, while A330P2F conversion slots are booked through mid-2025.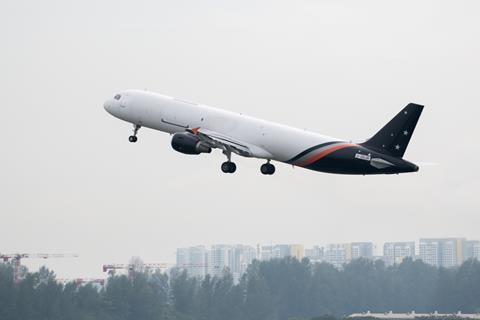 To meet the "strong demand", ST Engineering will expand conversion capacity to "more sites", but did not elaborate further. Current locations for P2F (passenger-to-freighter) conversions include its Singapore base, as well as Guangzhou and Dresden.
For the quarter, the company clinched over S$1 billion ($742 million) in new commercial aviation contracts, taking up the lion's share of total contract wins.
It clinched an 18-aircraft order from lessor BBAM for A320/A321 converted freighters during the quarter. Other contract wins include multi-year agreements with carriers such as Japan Airlines and Alaska Airlines for component and engine maintenance, respectively.
Commercial aerospace revenue for the quarter also rose 27% year on year, to S$607 million, as flight activity gradually resumed. The company says the resumption of international flights has helped "drive greater MRO recovery".