Ace Aero Partenaires, the public-private investment fund backed by the top four companies in the French aerospace industry, hopes to conclude its next set of deals in the coming months, with the aim of hitting "cruise speed" by mid-2021.
To date, the fund has €630 million ($744 million) under management, and has invested in one business since its July launch, last month acquiring Nantes-based Aries Alliance.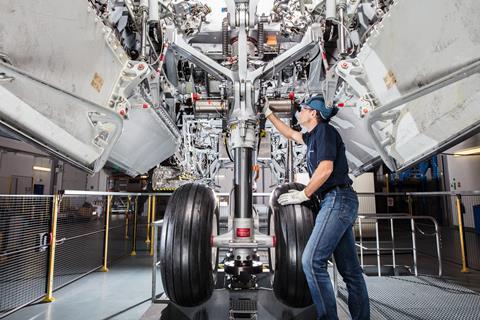 But "two or three cases are currently being investigated deeply" says Marwan Lahoud, executive chairman of Ace Management, the private equity firm which manages the fund.
"We are ready to take on another situation like Aries, or other deals."
Lahoud, a former top Airbus executive, says the investment in Aries, which could eventually reach €20 million, was needed due to the company's parlous financial state.
"It is a very interesting and technology-rich company that was suffering from a very poor balance sheet," he says.
Ace will assist with the restructuring of Aries' debts, which should be completed around mid-December, and then help to "revisit the strategy" to ensure it is fully adapted to the new aerospace business environment.
While Covid-19 likely hastened Aries' need for a financial bailout, its issues pre-date the pandemic, says Lahoud.
Aries, which specialises in making machines for aerospace production, and the manufacture of complex metallic components, "had been very successful not that long ago", but "two or three bad decisions" had hobbled it, he says.
He sees a three- or four-year effort required to fully transform the company, although stresses that it may not divest the business once the turnaround is achieved, diverging from the traditional private equity model of seeking an exit and financial return after three years.
Ace Aero was established on the back of the French government's Plan Aero strategy, revealed in June, to support the country's aerospace industry through the pandemic-induced crisis; Ace Management was chosen to run the fund after an open competition.
Initial investment has come from Tikehau Capital, Ace Management's parent company, plus France's big four aerospace primes – Airbus, Dassault, Safran and Thales – and the French government via its BPI France investment bank.
The Ace Aero fund is actively seeking additional capital from the private sector to meet a target of reaching €1 billion under management by some point next year.
Ace Aero has two streams of support for industry: direct financial investment, as in the case of Aries, where a company needs rescuing; and funding to assist consolidation in the supply chain.
While the former is available only to French businesses, the second is open to any aerospace company in Western Europe, says Lahoud; two applications have already been received from outside of the country for this "platform" investment.
Businesses seeking funding are assessed based on "their importance to the value chain", he says: "How key is the company through its technology or the criticality of its deliveries."
While Ace Management may not be a household name, this is not the first aerospace-related fund it has established: three previous efforts saw sums of €50 million, €100 million and €200 million managed, with investments including Mecachrome and Nexteam Group.
Although the big four aerospace firms are likely to see a financial return on their investments, that is not their main motivation, says Lahoud.
"Their main focus is safeguarding the key players for them, either through support or gaining the benefits of consolidation."