Chinese MRO provider GAMECO is ramping up its Boeing 737-800 passenger-to-freighter conversion capabilities, as it announces the launch of a third conversion line at its Guangzhou facility.
The move comes less than a year since it began work on the Boeing Converted Freighter (BCF) programme.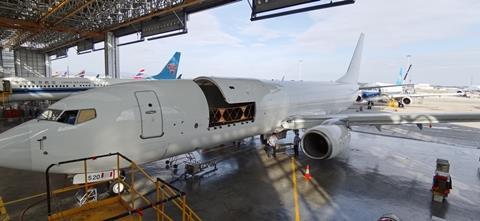 In late May, it inducted its first aircraft — a former AeroMexico example — and completed conversion in October.
Last September, the MRO announced the launch of the second BCF production line in Guangzhou. The line has since taken its first 737 to be converted.
Says GAMECO chief executive Norbert Marx: "Adding a third line gives us the opportunity to implement an innovative and scalable production concept for conversions. This concept will boost deliveries and improve further efficiency."