Swiss aerospace and defence group RUAG is to sell its German-based business aviation and helicopter MRO operation, and Dornier 228 production line to US firm General Atomics.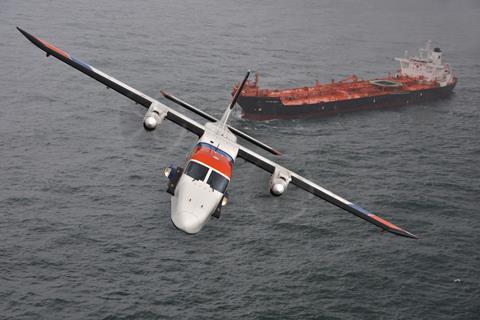 The transaction, which the companies say was agreed on 30 September, but has only just been announced, will include the transfer of all 450 employees at the Oberpfaffenhofen site near Munich. Final regulatory approval is still needed and terms have not been disclosed.
RUAG says the divestment is "another important step… to realignment" for RUAG International, which operates in space and aerostructures manufacturing and was earlier this year split from RUAG (Switzerland), which is largely a contractor of ammunition and other equipment and services to the Swiss armed forces.
The state-owned company in July last year divested business aviation activities at Geneva and Lugano airports. It will continue to employ 800 staff at Oberpfaffenhofen in its aerostructures business, which also has a site in Emmen, Switzerland, and is not affected by the sale.
Dresden-based General Atomics Europe employs 600 in Germany and has its roots in Spezialtechnik, a technology company acquired by the San Diego-based, family-owned corporation in 1992. It operates across several industrial markets, including aerospace.
General Atomics Europe managing director Harald Robl says the acquisition will allow the division to expand its portfolio into business aviation and helicopter MRO, as well as taking over production of the Dornier 228NG, which, according to Cirium fleets data, has a backlog of four aircraft. He adds: "We want to develop Oberpfaffenhofen into the European aviation core of the General Atomics Europe Group."
The latest FlightGlobal Top 100 ranking of aerospace companies has RUAG at number 70, with aerospace revenues of $887 million in 2019.
RUAG acquired the rights to the Dornier 228 after former owner Fairchild Dornier went into insolvency in 2002. Although designed as a 19-seat passenger aircraft, it has largely positioned the latest NG version of the twin-turboprop to appeal to the special mission market. Cirium shows 10 examples as in operational use, including with the navies of Bangladesh and Germany.