GKN Aerospace has completed the preliminary design of the hydrogen fuel cell powertrain it is developing under the UK-funded H2GEAR programme and is increasingly confident that the efficiency gains it is building into the system will allow it to scale to power a 96-seat aircraft – or one even larger.
Disclosing the progress of the project on 16 June, GKN Aerospace chief technology officer Russ Dunn said that it has now "defined the architecture for a number of different aircraft".
This includes 19-, 48- and 96-seat models, he says, "and what we are actually seeing is that the technology we are developing scales very well – it actually becomes more attractive as you get larger and larger."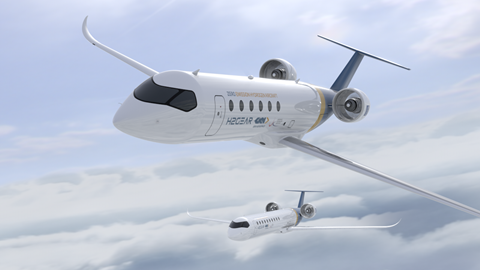 Under the H2GEAR programme GKN intends to deliver to ground test by 2025 a 1MW-class liquid hydrogen fuel cell powertrain, including the electric motor.
However, as part of the design process, it has been evaluating a variety of aircraft designs "to translate the aircraft requirements into the propulsion system", says Dunn.
He says the key elements of the system – the fuel cells, hydrogen storage tanks, and motors – are relatively simple to scale.
"So what we are seeing is a relatively straightforward – with some challenges – ability to go from 1MW, which is suitable for 19-seat platforms, up to an 8MW and above solution."
That has been enabled by the efficiency improvements, such as the power density of the motor, GKN Aerospace believes it will gain through the adoption of a cryogenic system.
Dunn declines to go into detail, citing commercial confidentiality, but says it uses the cooling potential of the liquid hydrogen to improve the performance of electrical system components.
Tests of the cryogenic system at technology readiness level (TRL) 4 will take place next year.
Dunn sees the cut-off point to use liquid rather than gaseous hydrogen in a fuel cell system being more clear-cut at the smaller end of the market, or an aircraft with capacity for around 10-13 passengers.
But the crossover point for a fuel cell system versus hydrogen combustion engines for larger aircraft is less well-defined, he says.
"What's the barrier at the top end? We thought getting to 48 seats was going to be a challenge but I think what we are seeing now is we are looking at 96 seats and arguably it looks even better."
However, to an extent the crossover point will be governed by the comparative improvements to fuel cell and turbine engine efficiency, he adds.
Dunn sees the weight of a fuel cell system being "as light, if not lighter" than a standard turboprop powertrain once all the elements are included. And while internal hydrogen storage will require the sacrifice of perhaps 25% of the fuselage volume in a 19-seater, "there are some concepts we are looking at which might give you some of that back".
Additionally, GKN Aerospace continues to work on the thermal management of the fuel cells themselves, which becomes a harder problem to solve the larger the aircraft is. Dunn points out that elements of this will be out of the company's hands as it is "going to rely on other parts of the aircraft".
"But what we have done is convinced ourselves that this is feasible, and that we have understood how that level of heat can be safely dissipated through different aircraft structures and other systems on the aircraft."
As part of this work, Dunn says GKN Aerospace is investigating the potential of heat exchanger concepts with an undisclosed partner. There are several UK experts in this field, notably Oxfordshire-based Reaction Engines.
H2GEAR is a £56 million ($68.4 million) project, with £27.2 million provided by the UK Aerospace Technology Institute.

Dominic Perry is deputy editor of Flight International but also contributes extensively to flightglobal.com. Although specialising in the coverage of the helicopter industry, he has written on most topics in aerospace – be they commercial, defence or business aviation. In addition, there has been an increasing focus on the decarbonisation of the industry and zero-emission flight initiatives.