Indonesia's GMF AeroAsia narrowed its nine-month operating loss on the back of a significant decline in costs.
For the nine months to 30 September, the MRO unit of Garuda Indonesia was $27.7 million in red at the operating level. This compares to the $178 million operating loss it posted during the same period in 2020.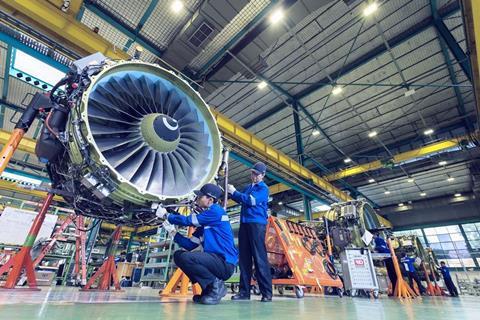 Revenue fell about 14% year on year to $165 million, with heavy maintenance and overhaul seeing a dip in takings. This was partially offset by a small rise in revenue from line maintenance, as flying activity increased gradually.
Costs for the nine months declined 48% year on year to $193 million, with the company seeing the sharpest drop in subcontract and impairment expenses.
GMF AeroAsia disclosed a nine-month net loss of $38.9 million, narrowing the $161 million net loss in 2020.
Despite improvements in its financial results, the MRO warned it was far from being out of the woods. Like parent company Garuda, the company flagged the "major adverse impact" the coronavirus pandemic has had on its performance.
To help drive up revenue, GMF AeroAsia says it will increase the volume of works beyond commercial aviation to areas such as defence, business aviation, as well as undertake more non-aviation overhaul work in the gas turbine sector.