GMF AeroAsia has signed a memorandum of understanding with Indonesian airport operator Angkasa Pura I (AP I) for the expansion of MRO operations.
Under the agreement, GMF will explore building and operating a maintenance hangar at the AP I-operated Sultan Hasanuddin international airport in the eastern Indonesian city of Makassar. The MRO did not specify what capabilities would be housed at the facility.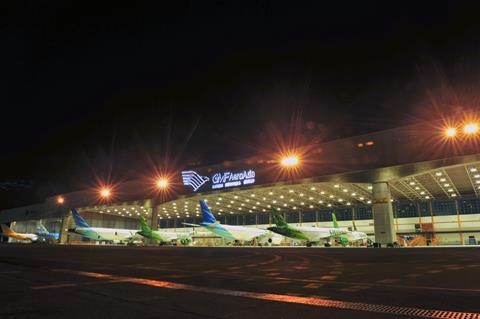 Both companies note that Makassar is a "strategic location" to tap into the central and eastern Indonesian markets.
"The collaboration is also in line with GMF's business plan of capturing aircraft maintenance opportunities as the aviation industry gradually recovers," the MRO unit of flag carrier Garuda Indonesia states.
AP I president director Faik Fahmi adds that the collaboration can "create a multiplier effect, such as job creation, economic acceleration and added value for stakeholders".
Apart from Garuda and its subsidiaries, other airlines to operate to Makassar include low-cost carrier Lion Air, as well as Sriwijaya Air. Prior to the coronavirus outbreak, the airport also attracted international flights from carriers such as Malaysia Airlines and Singapore low-cost airline Scoot.