GMF AeroAsia significantly cut losses for the half-year on the back of cost-cutting measures, though its liabilities still exceeded its assets by a significant amount.
For the six months ended 30 June, the MRO unit of Garuda Indonesia says its current liabilities exceeded assets by over $200 million, and that it had a negative equity of $240 million. By comparison, for the 2020 financial year, the company's liabilities exceeded assets by $171 million.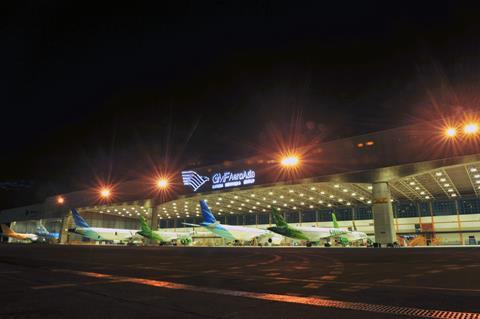 To this end, GMF AeroAsia states that it has, and will continue to, implement measures to improve its financial state, amid the coronavirus pandemic. These include tapping into non-aerospace sectors for revenue opportunities, reducing expenses, as well as restructuring financing facilities from creditors.
GMF AeroAsia, which recently reshuffled its senior management, posted an operating loss of $19.7 million for the half-year. This was significantly lower than the $108 million loss it reported in 2020, at the onset of the pandemic.
The company reported a 28% year-on-year decline in revenue, to $114 million. It also halved its costs compared to the same period in 2020, to $134 million, as impairment and subcontracting expenses fell sharply.
GMF AeroAsia made a net loss of $27.4 million, compared to $99.3 million during the same period in 2020.
It ended the half-year with $4 million in cash and cash equivalents, compared to nearly $9 million at the start of the year. This represents a slower cash burn compared to 2020, where it began the year with nearly $27 million and ended the six-month period with $6.4 million in cash and cash equivalents.
The company had previously targeted a return to profitability in 2021, based on its expectations that the Indonesian aviation market will recover in the year.