A bullish GMF AeroAsia is targeting a return to profitability this year on the back of strong MRO demand, though it has warned of supply chain challenges.
The MRO unit of national carrier Garuda Indonesia says slots at its Boeing 747 and Airbus A330 maintenance lines are booked full through the year-end, and that it is ramping up work on its engine MRO lines.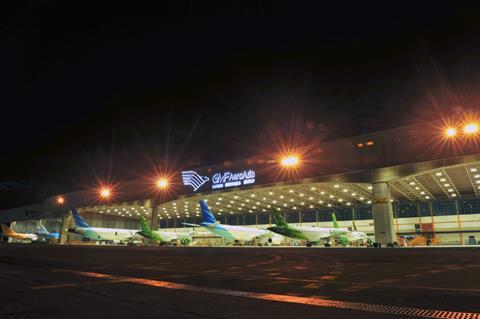 Line maintenance, as well as defence MRO, also continue to perform well in 2022, says GMF chief Andi Fahrurrozi.
In comments made at the company's annual public exposure event, Fahrurrozi says: "In the future, we hope we can survive amid the challenges of a recession."
Still, he points out that supply chain issues remain the MRO company's main challenge in the near-term, as it has been for other operators.
"[Raw] materials…are very difficult to obtain as a result of war…[and] several manufacturers [stopping] their production during the pandemic. [Now] when there is a lot of demand from airlines in the world due to reactivation, there is a shortage of components and materials," Fahrurrozi says, responding to a journalist's question.
Asked about the company's revenue targets for the year, Fahrurrozi says GMF expects to make about $320 million revenue for the year to 31 December, with net profit of around $7 million. The targets are currently being reviewed by GMF's board of commissioners.
The MRO company reported a net loss of around $17.8 million for the nine months to 30 September 2022.