Brazilian airline Gol intends to lease or purchase 250 of Vertical Aerospace's in-development VA-X4 air taxis from aircraft lessor Avolon, which ordered 500 of the conceptual aircraft earlier this year.
Gol disclosed its plan on 21 September, saying it signed a "non-binding letter of intent" to acquire the electric vertical take-off and landing (eVTOL) aircraft, which Vertical aims to have certificated by 2024.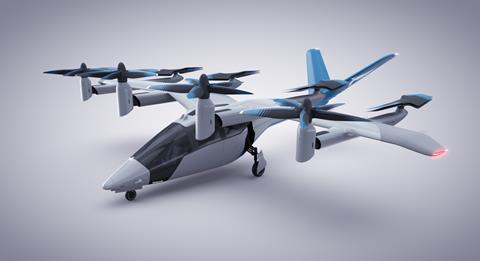 "Following aircraft certification and successful delivery of the aircraft, the company expects to start operating a flight network in Brazil using eVTOL planes by mid-2025," Gol says.
The airline signed the agreement with Dublin-based Avolon and Grupo Comporte, a Brazilian company owned by Gol's controlling shareholder. "Grupo Comporte is providing the investment capital required for the project, and will engage GOL's aviation expertise to develop the flight network using VA-X4 eVTOL aircraft," the airline adds.
The news follows Avolon's June announcement that it ordered 500 of the aircraft, which are being developed by UK company Vertical Aerospace.
Vertical says the aircraft will carry five people (including one pilot), fly at speeds exceeding 174kt (322km/h) and have range exceeding 87nm (161km). The manufacturer aims for its design to receive type certification from UK and EU regulations in 2024.
"The agreement with Avolon and Grupo Comporte is also part of GOL's commercial strategy to invest strategically in the regional air transportation market, opening up new routes to underserved domestic markets," Gol adds.
Avolon, Gol and Grupo Comporte will "collaborate to identify and target local partners, infrastructure and certification requirements across a range of commercial models, launching one of the world's first eVTOL ride-sharing businesses", Avolon says. With the deal, Avolon now "has commitments for over half of its order for 500" VA-X4s. The lessor does not name other customers and did not immediately respond to a request for more information.