HAECO has completed its first Boeing 787 landing gear overhaul, about six months after it added the widebody type to its overhaul capabilities.
HAECO Landing Gear Services says the landing gear, which came from an undisclosed operator, was released under the authority of US, European and Japanese civil aviation agencies. It also marks the world's first 787 landing gear overhaul, says the MRO.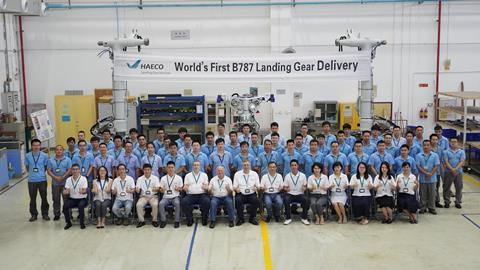 The unit now has capabilities covering most of the Boeing fleet, including 737s, 777s, as well as 747s. It adds that it has also been approved to perform overhaul works for 747-8 landing gear.
On top of landing gear overhaul, HAECO itself already performs airframe maintenance works on 787s, for customers such as Australia's Jetstar and United Airlines.