HAECO's cabin solutions unit has signed a strategic commercial agreement with German cabin interior and systems manufacturer Diehl Aviation.
The agreement, disclosed on 15 July, will focus on a "wide range" of cabin projects, with both parties working as an integrated supplier.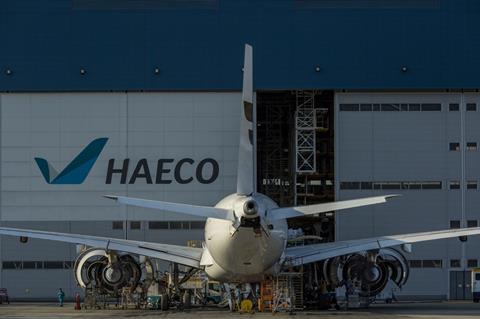 The projects include interior components like sidewalls, stowages, lighting, galleys, lavatories, seating, reconfiguration engineering, certification, and installation, says HAECO.
Diehl Aviation says the partnership is a "significant contribution…to its future line-up", as it works towards a recovery from the impact that the coronavirus pandemic has wrought on the aerospace sector.
"Together with HAECO Cabin Solutions, Diehl Aviation's position in the market for cabin upgrade solutions will see a further enhancement," it adds.
HAECO Cabin Solutions president Doug Rasmussen says: "HAECO's expertise with STCs, reconfiguration projects, and seating products complements Diehl's industry-leading portfolio of galleys, lavatories, smart monuments, sidewalls, bins, and other interior components, as well as comprehensive lighting capabilities. The overall combination allows us to provide more efficient and passenger-centric cabin interiors."