HAECO has expanded its Airbus A321 passenger-to-freighter conversion with 321 Precision Conversions, with the former's Xiamen unit providing additional capacity to the programme.
HAECO Xiamen will begin conversion work for the A321 from February at its facility in China, a month after sister unit HAECO Americas starts conversion services in its Lake City, Florida facility.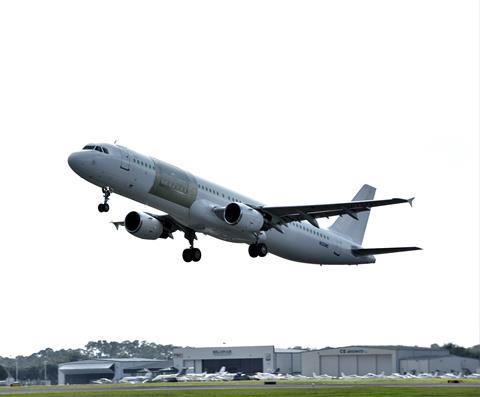 "The two geographical locations will bring benefits and flexibility to A321-200PCF programme while more choices are available for airline customers," states HAECO.
HAECO Xiamen first partnered 321 Precision in 2009 for conversion work of Boeing 757-200 aircraft, and has completed 26 conversions to date.
321 Precision president Gary Warner says: "HAECO Xiamen has been a great partner on our B757-200PCF programme demonstrating high quality and efficiency. Expanding the A321-200PCF conversions into HAECO Xiamen was an easy decision as we continue to expand conversion kit capacity to meet high customer demand."
The announcement comes as 321 Precision announced it would be converting four additional Airbus A321-200PCFs for a joint venture formed by private equity firm Zetland Capital Partners and lessor Greenwich Highland Aviation. Work will commence in early 2023 at HAECO Americas' facility, the company added.
In September 2021, HAECO Americas announced it was providing heavy maintenance and structural modifications for 321 Precision's Airbus A321 passenger-to-freighter conversion programme.
Apart from A321 and 757 conversions, HAECO is also involved in the 747-400 Boeing Converted Freighter programme.