HAECO is to expand its Xiamen aircraft MRO facility, in what it calls its largest single investment to date.
The company's Xiamen unit will shift its aircraft maintenance facility from the current Xiamen Gaoqi international airport to the in-development Xiang'an international airport, which is expected to be operational in 2025.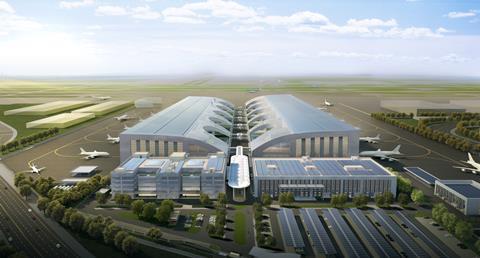 HAECO says the "industry-leading" hangar will be the world's largest single-span aircraft MRO hangar, covering a total area of more than 537,000 sq m (5,780,000 sq ft). This compares to the current 460,000 sq m site in Xiamen.
The new facility will comprise 12 widebody and six narrowbody maintenance bays, in addition to two painting bays. HAECO will also construct new facilities – 18 buildings in total – for apron engineering, engine test bays, utility tunnel, aviation fuel supply and other outdoor works.
HAECO Xiamen provides airframe base maintenance, line services, parts manufacturing, design engineering, certification, and technical training at its current facility.
"As the largest single investment by the HAECO Group since its inception, the commencement of the project further demonstrates HAECO's confidence in its continued investment in the Chinese Mainland and its determination to contribute to the development of the region's aviation industry through continuous business expansion," HAECO says in a 8 January statement. The company did not disclose how much it was investing in its new facilities in Xiamen.