Gothenburg-based Heart Aerospace made a net loss of SKr77.8 million ($6.9 million) in the 12 months to 31 December 2021, a sharp fall on the SKr5.4 million net profit recorded the previous year, as the company funded its rapid expansion.
In its accounts for the period, disclosed to the Swedish companies registry in early October, Heart says 2021 was an "eventful" year, as its focus switched from developing an electric powertrain to an entire aircraft.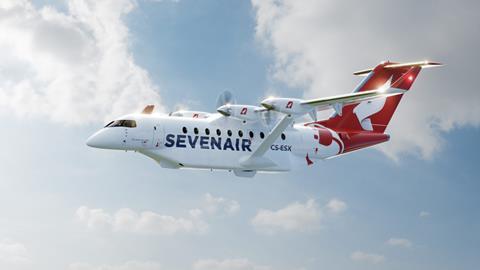 As a consequence, employee numbers rose from seven to 53, it says, and development deals were struck with Aernnova for the wing, fuselage and empennage, and with Garmin for the avionics.
However, due to the developmental nature of Heart's aircraft, the company recorded no sales income during either 2020 or 2021.
In addition, the accounts reveal that a previously undisclosed US business – Delaware-registered Heart Aerospace Inc – is the owner of the Swedish operation.
The US business has received the funding from investors including Breakthrough Energy Ventures, LowerCarbon Capital, Mesa Air Group and United Airlines Ventures, Heart says.
Heart it is a "fully owned subsidiary of Heart Aerospace Inc", and the US company "has no other business than owning the shares in Heart Aerospace AB [the Swedish company]."
No breakdown the ownership of Heart Aerospace Inc has been provided, but Heart says the largest stake is held by founder and chief executive Anders Forslund.
During the course of 2021, Heart received shareholder contributions totaling SKr67.5 million, with another SKr80 million in "conditional" funding pledged.
Meanwhile, Heart has secured a tentative agreement from Portuguese carrier Sevenair, comprising a letter of intent for three 30-seat hybrid-electric ES-30 aircraft, plus three options.
Regional carrier Sevenair currently operates a fleet of small turboprop types including Dornier Do 228s and BAe Jetstream 31s.
With the latest deal, Heart has now accumulated 230 orders for the ES-30, plus LoIs for a further 99 units.
Sevenair is also a member of Heart's advisory board.
Heart announced in September that it had dropped plans for a 19-seat all-electric aircraft called the ES-19 in favour of the larger ES-30. It also unveiled Air Canada and Saab as new shareholders.

Dominic Perry is deputy editor of Flight International but also contributes extensively to flightglobal.com. Although specialising in the coverage of the helicopter industry, he has written on most topics in aerospace – be they commercial, defence or business aviation. In addition, there has been an increasing focus on the decarbonisation of the industry and zero-emission flight initiatives.
View full Profile