Sweden's Heart Aerospace has appointed Simon Newitt as chief commercial officer, as the electric aircraft developer continues to bolster its executive team.
Newitt joins from Irish lessor Adare Aviation Capital, where he was chief operating officer. Prior to that he held several posts at Embraer over a 20-year period, most recently vice-president of global contracts and asset management.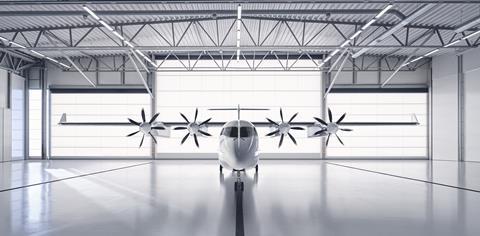 Newitt says the start-up culture at Heart and the design of its ES-19 aircraft were both big selling points. The 19-seater features a regular aluminium fuselage and wing, with a T-tail design, but is powered by four electric motors.
"What is appealing to me is that Heart is not trying to do everything at once – the ES-19 is conventional but it brings innovation where it's required," says Newitt.
"I'm joining an amazing team of true pioneers who, in providing affordable zero-emission solutions, are changing how the aviation and mobility business will function in the future; it's exciting to be at Heart Aerospace early on this journey."
Newitt will be responsible for marketing, sales, and contracts, reporting directly to Heart's founder and chief executive Anders Forslund.
A key task will be to increase Heart's backlog, with the ES-19 having already attracted around 450 commitments, including marquee orders of 100 aircraft each from Mesa Airlines and United Airlines. Service entry is scheduled for 2026.
Newitt believes the increasing focus by airlines on reducing their environmental impact will only drive interest in the ES-19.
"Aviation is at a disruptive and transformational moment; I'm going to be overwhelmed with requests for updates and information," he says.