Honeywell Aerospace and Archer Aviation have agreed to collaborate on flight-control actuation and thermal-management technologies for Archer's in-development electric vertical take-off and landing (eVTOL) air taxi.
The companies said on 27 July that the actuation technology is a "key enabler" for the aircraft, and Phoenix-headquartered Honeywell's Micro Vapor Cycle System thermal management system will help Archer provide a "best-in-class in-cabin experience" for passengers.
"Honeywell's position as an established leader in delivering advanced aerospace technologies will be critical to our delivering on our goal of certifying our production aircraft in 2024," says Archer chief executive Adam Goldstein.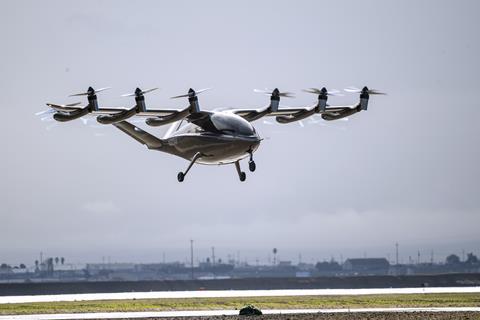 "Honeywell has a wide variety of ready-now solutions that will create a more-sustainable future for the aviation sector," adds Stephane Fymat, vice-president and general manager of urban air mobility and unmanned aerial systems at Honeywell Aerospace. "We're committed to making urban air mobility an everyday form of travel, and Archer's aircraft will help bring that vision to life."
The production aircraft will operate in dense urban environments, operating missions requiring exact responses from the aircraft's flight controls, the companies say.
"Honeywell's actuators can accept hundreds of micro adjustments and commands per second from fly-by-wire computers, enabling precise navigation," they add.
Palo Alto, California-based Archer introduced its prototype aircraft, called Maker, last June, and the two-seater completed its maiden hover flight on 16 December. Last month, the company said it expects "by year end" to conduct flights during which the aircraft will transition to forward flight.
Maker has 12 wing-mounted rotors, 52nm (96km) of range and can cruise at up to 130kt (241km/h), according to the company.
Archer has said it will build a four-seat variant, which it aims to have certificated for passenger operations by 2024.
In February 2021, United Airlines committed to taking 200 of the in-development aircraft in a deal worth up to $1 billion.