Israel Aerospace Industries (IAI) on 18 March appeared to buck the crisis by reporting record revenues and net profits for 2020. It follows, what its chairman calls, "a 180-degree transformation" that began before the pandemic.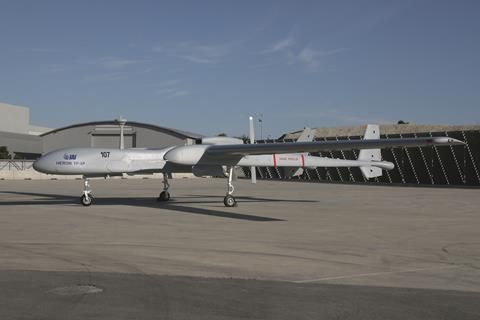 The state-owned group – whose portfolio ranges from unmanned air vehicles (UAVs), missiles and satellites to Boeing freighter conversions – made its highest revenue in almost 70 years, at $4.18 billion. Net earnings were up by almost half to $133 million, with EBITDA 23% higher, at $397 million.
"IAI has completed a 180-degree transformation in recent years, [with] 2020 the highlight point for the company's business, operations and financial success since its establishment in 1953," says chairman Harel Locker.
The company has been loss-making for much of its recent existence.
Boaz Levy, a 30-year IAI veteran, who succeeded Nimrod Sheffer as chief executive in November last year, says highlights of the year included the launch of the Ofek 16 observation satellite, the development of the Arrow weapon system, and "leading the world" in passenger-to-freighter conversions with its Bedek unit.
The company's strongest performing divisions in revenue terms were systems, missiles & space, and electronic warfare specialist Elta. The company makes almost three-quarters of its revenues from exports.
Last year's US-brokered Abraham Accords – a peace agreement between Israel and the United Arab Emirates – are likely to boost prospects for IAI and its rival Elbit Systems in what has until now been an untapped market for Israeli firms. In March, IAI and UAE technology group Edge announced they would be developing a system for the Middle East market to counter the threat of UAVs – the first industrial collaboration between the two countries.
Asia also remains a key territory. This month, Korean Aerospace Industries signed pacts with IAI and Elbit to jointly develop UAVs for South Korea's armed forces.
IAI was ranked 33rd largest aerospace business in the latest FlightGlobal Top 100, based on 2019 revenue.