Japan Airlines has become the first regional aircraft operator to use GE Aviation's 360 Foam Wash to clean the CF34 engines that power its Embraer E170s.
GE Aviation says that it has awarded the Tokyo-based carrier a technical licence to use the engine cleaning system, which it states can cut carbon emissions by reducing engine fuel consumption.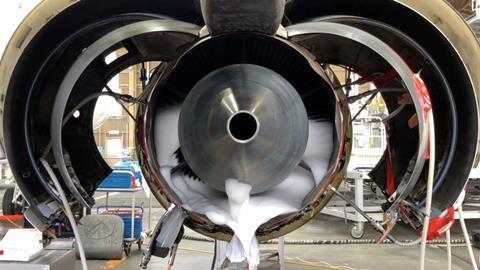 According to the enginemaker's estimates, replacing the conventional water wash with the 360 Foam Wash can save JAL up to 82,000 litres of fuel and up to 285t of carbon emissions a year.
"In conventional water cleaning, water is atomised and sprayed into the compressor of the engine, but in foam cleaning, a special heated foaming cleaning agent is injected into the engine to chemically remove dust and dirt particles inhaled during flight. This reduces CO2 emissions by decreasing fuel consumption through improved fuel economy," says JAL in a separate statement.
The carrier has listed sustainability among its key focus areas in its medium-term strategic plans, with the goal of achieving carbon neutrality by 2050.
According to GE, the 360 Foam Wash can also be used on multiple GE engine programmes, including the GE90, GEnx, CF34 and CF6 engine families.
Other carriers which have been awarded technical licences to use the foam wash on their GE90 and GEnx engines include Emirates, Etihad Airways, as well as Qatar Airways.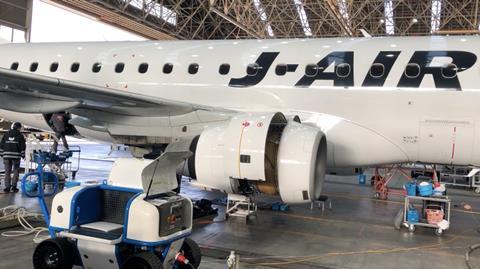 JAL regional subsidiary J-Air operates a fleet of 18 E170s, according to Cirium fleets data. The airline also operates a fleet of 14 E190 regional aircraft, which are powered by CF34 engines as well.