Juneyao Air has taken delivery of the first Airbus A321neo to be completed at the airframer's final assembly line (FAL) in Tianjin.
The facility in China was upgraded last year to undertake A321neo work amid high demand for the largest variant of the A320 family.
"Since we announced the commissioning of the first A321 aircraft at FAL Tianjin last November, the relevant final assembly activities and tests went on smoothly, showcasing the maturity of FAL Tianjin to quickly adapt to new products," says George Xu, chief executive of Airbus China.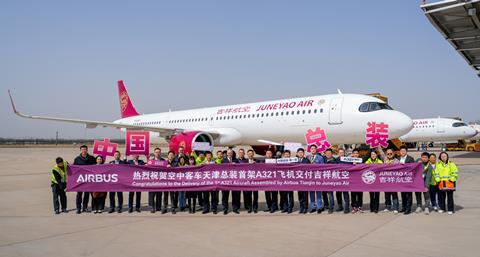 The Juneyao Air aircraft is powered by Pratt & Whitney PW1100G engines and was delivered using a 10% sustainable aviation fuel blend.
All four of Airbus' A320-family FALs are now able to work on the A321neo, Toulouse having joined Tianjin, Hamburg and Mobile earlier this year.
The Tianjin facility has completed assembly of around 600 A320-family jets over the past 14 years, Airbus says.