Korea Aerospace Industries (KAI) has entered an agreement to set up a research centre in South Korea to explore advanced air mobility.
KAI signed the pact with the government of South Korea's Gyeongsangnam-do province, which lies to the west of Busan, and the city of Jinju-Si.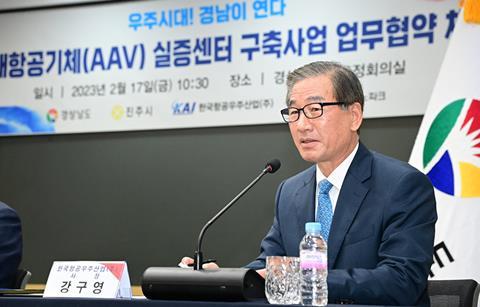 The two governments will provide financial support; while KAI will provide equipment and manpower.
The total cost of the project is W25 billion ($19 million) and the centre is expected to be completed by the end of 2024.
The centre will be used for both ground tests as well as flight tests.
KAI adds that it aims to invest in the region of W3 trillion in research and development in the next decade, and is developing an eVTOL (electric vertical take-off and landing) vehicle.
KAI has conducted work in areas such as dispersed electric propeller systems and rotor shaping. It aims to have a scaled test vehicle during 2024.
Separately, KAI says that 2022 operating profits more than doubled year on year to W142 billion, as sales grew 8.8% to W2.8 trillion.
Given a successful year for orders, namely Poland's decision to obtain 49 FA-50 light attack jets, KAI has a record order backlog of W24.6 trillion.
In 2023, it expects sales to grow 37.3% in 2023 to W3.8 trillion. Aiding this will be the delivery of the first 12 FA-50s to Warsaw.