Air taxi developer Eve has secured a letter of intent from Kenya Airways' unit Fahari Aviation for up to 40 electric vertical take-off and landing (eVTOL) vehicles.
In addition, a working group will undertake joint studies on developing and scaling Kenya's urban air mobility (UAM) market, as well as the business model for cargo drone operations, says Eve, which was spun off from Embraer earlier this year.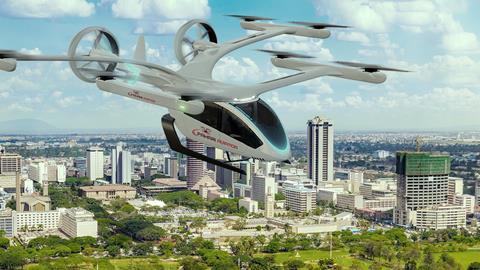 Melbourne, Florida-based Eve adds that deliveries of eVTOL aircraft to Fahari are expected in 2026.
"Urban air mobility is the future of transport, and we are honoured to be the champions of this in the region," says Kenya Airways chief executive Allan Kilavuka.
"The journey to realise the dream of eVTOL vehicles in Kenya is on course, and the partnership with Eve is a key achievement for us as part of the strategy to adopt new technologies as a growth strategy for the sustainable development of Africa."
The LOI was signed in March, according to Eve, which announced the agreement only on 21 June.
In August 2021, Eve launched a collaboration with Kenya Airways related to supporting Fahari Aviation, the unmanned aircraft systems division of the Kenyan flag carrier.
At that time, the stated goal was to develop "a sustainable, accessible, and affordable transportation option" that could cut travel times 90% on routes such as between airports and city centres.