Pratt & Whitney has added Korean Air's maintenance and engineering division into its network of MRO providers servicing the PW1100G geared turbofan.
It is the enginemaker's eight MRO provider in the Asia-Pacific network, which also comprise other companies like Eagle Services Asia in Singapore, MTU Maintenance Zhuhai in China, as well as IHI in Japan.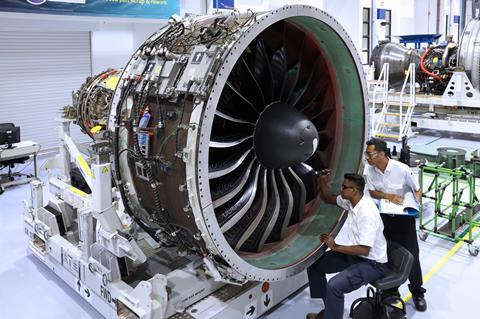 The facility will serve the PW1100G engines which power the Airbus A320neo family with full disassembly, assembly and test capabilities. It will not service the other members of the engine family, which include the PW1500G and PW1900G turbofans.
Korean Air does not operate A320neo family aircraft currently, but has 30 A321neos on order, with the first example to be delivered in 2022.
The SkyTeam carrier also has a fleet of 10 PW1500G-powered A220s, according to Cirium fleets data. It also has P&W-powered jets in its fleet: its A330s are powered by PW4000-series turbofans, for instance.
Mary Ellen Jones, P&W commercial engines vice president Asia Pacific for customer business, says the PW1100G capability at the Korean Air facility is likely to come online in late-2023.
At a virtual media call, Jones adds that there is "certainly more growth" to come from the North Asia region, even though PW1100G operators from the region were far and few in between.
As airlines "ease back into a post-Covid recovery", Jones is optimistic about opportunities for the geared turbofan family.
"I think as airlines get healthier…they're certainly going to be looking to build up their single-aisle fleets. Airlines are looking to scale back from their widebodies…and maybe putting in the longer-range single-aisle…to help manage the trip costs," she says.