Korean Air and compatriot Asiana Airlines have inked a multi-year engine MRO contract, covering the latter's Pratt & Whitney PW4090 powerplants.
Disclosing the deal, Korean Air says the contract — valued at around $260 million — will cover 22 PW4090s over five years, with works to be conducted at Korean Air's engine maintenance plant at Bucheon, located southwest of Seoul.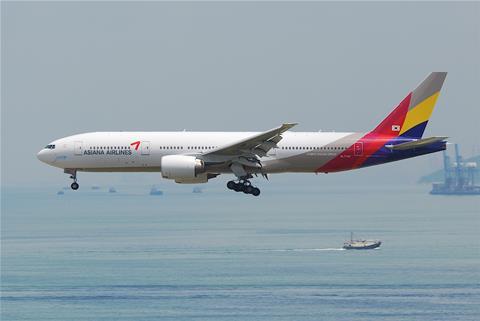 Korean Air says the agreement marks a "significant" development to help build up the country's aerospace MRO industry, and increase its competitiveness.
It also comes amid an ongoing acquisition of Asiana by Korean Air, which was first announced in November 2020. Korean Air notes: "The two companies will continue to [work on] tasks that can [benefit] each other in a variety of technical fields, including aircraft maintenance as well as various types of engines."
Asiana had previously contracted P&W for MRO services on its PW4090s, but the multi-year contract had recently expired.
The PW4090 powers Asiana's fleet of nine Boeing 777-200ERs, which are currently grounded, according to Cirium fleets data.
The engine type made the headlines earlier this year, after a major engine failure on a PW4000-powered 777 operated by United Airlines led to a grounding of 777s with the P&W powerplant. In South Korea, Asiana, Korean Air and Jin Air operate PW4000-powered 777s.