Canadian manufacturer Bombardier is to sell the electrical wiring activities at Queretaro site in Mexico to Latecoere.
The French aerostructures and electrical equipment manufacturer will pay Bombardier $50 million for the operation, which employs around 700 staff and generates annual turnover of $80 million, the two companies have disclosed.
As part of the deal, scheduled for completion by June, Latecoere will supply electrical wiring interconnection systems for Bombardier's business jet lines under a "long-term" co-operation agreement.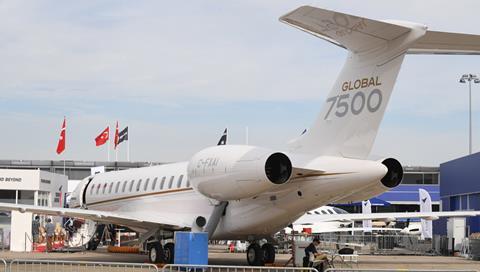 "The sale will not impact the remainder of Bombardier's operations at its Queretaro site," says the Montreal-based company.
Operations at the facility include production of aft fuselages for Bombardier's Global business jets.
The manufacturer says the transaction supports the "transformation" of its aviation business and "sharpens the company's focus on its core manufacturing capabilities".
Over recent years, Bombardier has sold its commercial aircraft programmes and related activities in order to concentrate on business jets and the rail sector.
"This agreement exemplifies Bombardier's focus on streamlining its activities to foster a strong and efficient aviation franchise," states Bombardier Aviation chief operating officer Paul Sislain.
He predicts that the transaction "will result in a winning combination for both our companies".
Latecoere's chief executive Yannick Assouad declares its intent to "emerge as a leading player in the global consolidation movement in the aeronautics sector".
The company has "a strong desire to strengthen our presence in the areas closest to our customers", she notes.