Deliveries of CFM International Leap engines more than halved across the first nine months of the year, falling to 622 against 1,316 in the same period a year earlier.
French aerospace giant Safran, which is a 50:50 partner in the CFM joint venture with GE Aviation, says 172 Leap engines were shipped in the third quarter, down from 455 a year earlier.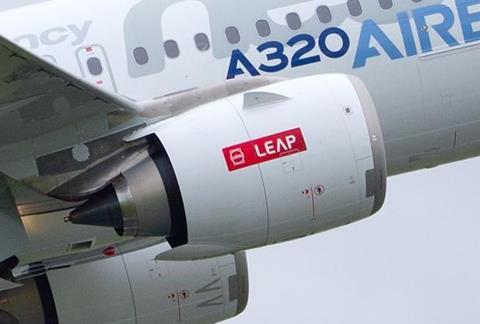 The engine joint venture also delivered 123 CFM56 powerplants during the nine-month period, 39 in the third quarter, against respective figures 327 and 69 a year earlier.
Safran also recorded deliveries of 13 PowerJet SaM146 engines for the Sukhoi Superjet during the quarter, which it produces jointly with Russia's United Engine.
However, Safran says engine utilisation rates have inched up, mainly driven by Chinese domestic airlines.
As of 25 October, weekly Leap fleet cycles were down 15% year-on-year, up from a 23% reduction at the end of July, while CFM weekly cycles were 48% lower, up from 52% at end-July.
Safran says that activities across the group have edged up, particularly in Septmeber "since the trough reached in [the second quarter]". Improvements were particularly noticeable in civil engine services and OEM sales.
Revenue in the three months to end-September dropped by 44.5%, to €2.71 billion ($3.16 billion), or 42% on an organic basis. Income from the propulsion division – which includes the CFM activities – fell by 45.9%, although Safran's helicopter turbine unit reported a modest increase.
Over the nine-month period, group revenue fell by 33.2%, to €12.1 billion, while propulsion revenue fell by 37%, to €5.6 billion, from €8.88 billion a year earlier.
Aircraft interiors were a particularly bleak part of the market; revenue fell by 55.7% during the quarter with the decline led by the cabin and seating business; for the nine-month period, divisional revenue fell by 41.6%
Safran says there have been few order cancellations for its interior products from the OEMs, but "airlines rescheduled their retrofit programmes from 2020 to 2021 and beyond".
There was a slight improvement over the previous quarter, it says, although says that "unlike other divisions, Aircraft Interiors showed a decrease in activity in September".
However, during the quarter Safran won new work to provide business-class seats for a US airline's Boeing 787s. It was also selected by an Asian airline for economy seating on its future Airbus A321s, plus business-class seats on its 787s.