French aerospace group Safran saw revenue and profit pummelled in 2020 amid the aerospace industry's "greatest crisis in its history" as the Covid-19 pandemic drove down activity across all three of its divisions.
Group revenue was down by 33%, to €16.5 billion ($20 billion), while recurring operating income more than halved, falling 56%, to €1.68 billion.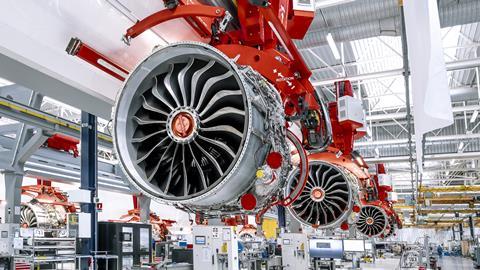 Lower deliveries of commercial engines – principally the CFM International Leap series – were responsible for the bulk of the revenue fall.
Last year the CFM joint venture, in which Safran is a partner with GE Aviation, shipped 815 Leap engines, compared with 1,736 in 2019. Deliveries of legacy CFM56 engines fell to 157 units, down from 391 in 2019.
For the full year, useage rates across both the CFM56 and Leap fleets were down. Weekly cycles dropped by 43% and 6%, respectively, against the previous year. However, Safran notes that the situation has worsened since then, with the declines on 2019 activity standing at 61% and 29% as of 14 February.
Accordingly, revenue in Safran's propulsion division fell by 36.4%, to €7.63 billion from €12 billion previously. Operating income was down by 52% to €1.1 billion, which was "strongly impacted by the drop in civil aftermarket".
Revenue in the aerospace equipment unit, which includes landing-gear, brakes and other systems, was down to €6.8 billion, while operating income dropped to €687 million, respective decreases of 25% and 43%.
In percentage terms, the steepest declines were seen in the interiors division where revenue dropped by 42%, to €1.9 billion, and the operating loss hit €174 million – a 192% reversal on last year's €188 million profit.
Safran expects Leap deliveries will be broadly flat in 2021, while shipments of CFM56s will be halved.