Electric air taxi start-up Lilium plans to list in the USA in a reverse merger aimed at providing funds to launch commercial operations in 2024 with a new seven-seater jet.
The German company says it will merge with Qell Acquisition, a publicly listed special-purpose acquisition company, in a deal valuing the combined entity at some $3.3 billion.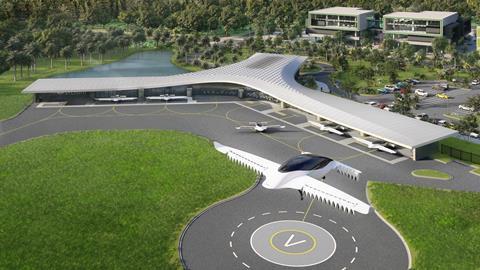 "Today's announcement brings us closer to launching our passenger service," states Lilium co-founder and chief executive Daniel Wiegand. "We are pursuing our unique electric jet technology because it is the key to higher-capacity aircraft, with lower cost per seat-mile while delivering low noise and low emissions."
Munich-based Lilium expects the transaction to close in the second quarter of 2021 and to bring gross proceeds of around $830 million, comprising a stock PIPE (private investment in public equity) offering of $450 million along with approximately $380 million cash held in trust.
Its first electric vertical take-off and landing aircraft to go into serial production will be a seven-seater jet which it has been developing in "stealth mode".
"The proceeds from the transaction are intended to fund the launch of commercial operations, planned for 2024. This includes the finalisation of serial production facilities in Germany, launch of serial production aircraft, and completion of type certification," says Lilium.
Qell is led by former General Motors North America president Barry Engle, who will join the Lilium board along with former Airbus chief executive Tom Enders.
Engle states: "Lilium has unique technology and one of the most accomplished engineering and commercial teams in electric aviation. The 7-Seater Lilium Jet is a game-changer for transportation."
The seven-seater jet has a projected cruise speed of 175mph at 10,000ft and a range of 155-plus miles, Lilium says. It adds that the jet has "30 times fewer components than a commercial airliner and is designed for ease of manufacturability and scalability".
Lilium's existing shareholders will roll 100% of their shares into the combined company, and Wiegand will hold 3:1 super voting shares. It expects its shares will be listed on the Nasdaq under the symbol LILM.
JP Morgan Securities and Barclays Capital are acting as financial and capital markets advisers to Qell, while Citi is acting as financial adviser to Lilium.