The UK aerospace sector has not suffered significantly as a result of the country's withdrawal from the European Union 30 months ago, but possible long-term effects are "still not clear", says the chief executive of trade body ADS.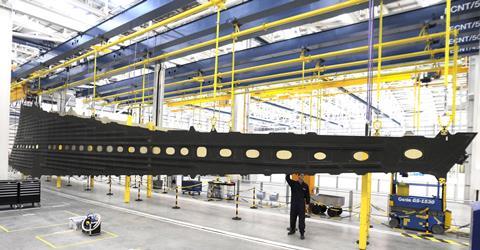 According to Kevin Craven, new trade barriers between the UK and EU have been "broadly absorbed" and are "seen as a cost of doing business" by companies on both sides of the Channel.
However, he says continuing disputes over issues such as the Northern Ireland protocol, which establishes customs checks on goods travelling between the province and the rest of the UK, are causing frustration.
"There is a desire among our counterparts in Europe to do business with Britain, but there is a feeling of irritation at some of the political grandstanding," he says.
Any impact from Brexit on the commercial aviation supply chain is also "counterbalanced" by strong performance of the country's defence sector, which is less dependent on commerce with the rest of Europe and is benefiting from an uptick in military spending by NATO members and allies in the Middle East, adds Craven.
Following the UK's vote to leave the EU in June 2016, various industry leaders, including the then-chief executive of Airbus, Tom Enders, warned that a failure to agree a trade agreement could endanger future investment in UK industry.
Craven was speaking as ADS revealed its latest survey of the contribution made by the aerospace, defence, space and security sectors to the UK economy on 28 June. Their combined revenue for 2021 was £77 billion ($94 billion), with £22.4 billion of that coming from aerospace. Aerospace's exports were worth £15.2 billion.