While the Malaysian government has gone some way in helping its airline industry tide through the coronavirus crisis, more can done to give the ailing sector a fillip — especially because recovery is hard to predict.
This is crucial as airlines are "the lifeblood" of the broader aviation sector, said panellists in a webinar organised by the Malaysia Aerospace Industry Association (MAIA) on the pandemic's impact on the industry - and the recovery path.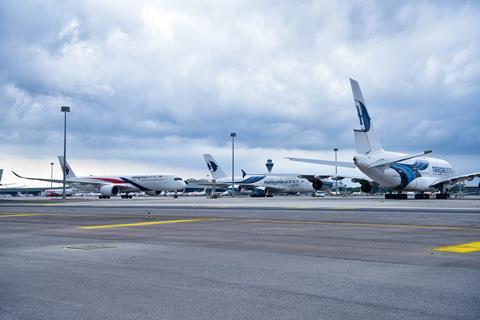 On support, MAIA President and chief executive of Strand Aerospace Malaysia Naguib Mohd Nor says that it is the airlines that need to be supported because "they are the lifeblood of the industry".
"They create the opportunities for aircraft to be sold…and they need to be very directly supported," Naguib told the panel discussion.
Agreeing, independent aviation analyst Brendan Sobie notes that "there is a whole ecosystem around the airlines".
He adds: "I think the first step really is to protect what Malaysia has, and rather than stimulate growth or new areas."
During the wide-ranging discussion held on 9 February, Naguib said the Malaysian government " has to play a very strong role" in helping its aviation sector, similar to how neighbouring Singapore has done for flag carrier Singapore Airlines and Changi Airport.
One area that can see more assistance is in helping the aerospace supply chain, which Naguib feels the government does not fully understand. Malaysia's aerospace activity is concentrated at Subang, an area just south of Kuala Lumpur.
"I think what we have is a supply chain that we've somehow grown through some strategic projects, but has yet to become … the powerhouse that it's supposed to be," he adds.
The three panellists also stressed that predicitions are difficult amid the pandemic, but it is already clear that 2021 will not herald a recovery - or at least not in the first half.
Sobie contends that recovery will only begin in 2022, but even then, "a lot is still unknown."
It is a view that is echoed by partner at PwC Malaysia Edward Clayton, who felt that full recovery by 2024 "is probably being optimistic".
"We can see signs that with vaccination, that things are going to get easier. But I believe that a lot of governments have become very concerned about not wanting to let Covid-19 spring up again, they're not completely convinced that vaccines are going to do their job," he says.
Sobie also told the panel that domestic recovery in the country has been patchy at best, especially when compared to recovery experienced in other countries in the region.
The country saw steady improvements in domestic traffic until September, but a second wave of Covid-19 infections in October saw traffic crash again, only to remain at distressed levels, he notes.
"So [that makes] it even even more difficult for the airlines in Malaysia, because domestic really didn't recover … significantly compared to other countries, and also the airlines in Malaysia were heavily reliant on international [traffic]," Sobie says.
Several parts of Malaysia are under lockdown currently, as the federal government hopes to curb the spread of a new wave of infections in the country. The measures have also meant that domestic, interstate travel has been limited. All of this serves to put a dampener on domestic traffic levels.
Flag carrier Malaysia Airlines and low-cost giant AirAsia Group are each undergoing some form of restructuring amid a pandemic-driven downturn.
The panellists took the view that it was unlikely any form of consolidation was on the cards, even amid speculation that the troubled Malaysia Airlines could be taken over by AirAsia. Says Sobie: "I think the airlines are basically focused on getting their own house in order [in] restructuring. And I agree that it's not necessarily that Malaysia needs fewer airlines…it certainly doesn't need more airlines."
Adds PwC's Clayton: "I still very much hold to the view that there is room for a premium carrier as well as a low cost carrier in Malaysia. I don't see that it is a country where only one airline will survive."