Malaysian logistics operator Raya Airways will lease two Airbus A320 passenger-to-freighter (A320P2F) aircraft, as well as another two A321P2Fs from ST Engineering's aviation asset management business.
Delivery of the first jet – an A321P2F (MSN1293) – is expected by the end of the year, with ST Engineering joint venture EFW conducting the conversion work in Singapore.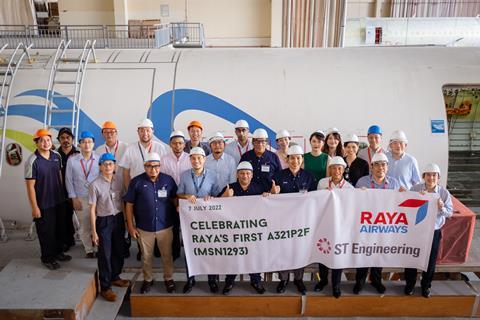 The agreement, the first between Raya and ST Engineering, will see the carrier take its first Airbus jets. According to Cirium fleets data, the airline operates three Boeing 767-200 freighters, as well as a single 737-400 freighter.
Says Raya's group managing director Mohamad Najib Ishak: "With the introduction of the A320P2Fs and A321P2Fs into our fleet, we are able to scale up our operational capacity to meet the growing demand, whilst being able to reduce the carbon footprint as we push forward our sustainability agenda."
The operator's commercial chief Hidayat Rahim adds: "[The] added payload capacity will enable us to add numerous major routes to further expand the company's footprint in the region."
According to Cirium fleets data, the Raya's first A321P2F is a 22-year-old example, having been first delivered to Asiana Airlines in August 2000. It later operated with Sichuan Airlines, Metrojet of Russia, and Cambodian carrier Sky Angkor Airlines, before being stored.